Newsletter/Blog
Launching at ponta do ouro
- 2014-06-29
With the big sandbank here at ponta it sometimes make you think twice before taking on a wave, be very wary on low tide going in or coming out, I recommend that you always take the surf on straight and make sure you are on the plain so that if you hit the sandbank that your speed will push you threw! Again if you wait and have patience the right se...
more
2014 season starts slow
- 2014-06-09
THIS YEAR THE SEASON IS VERY LATE,IT LOOKS ABOUT 3 MONTHS LATE,THE LIVE BAIT (MAASBANKERS) IS JUST STARTING TO COME IN SLOWELY WERE THEY ARE HER NORMALLY IN THE BEGINNING OF MARCH,THE WALES ARE ALSO LATE THIS YEAR.THE GAMEFISH CATCHES HERE IN PONTA DO OURO IS THIS FAR FOR THE YEAR NOT BAD AT ALL AND DO WE GET DECENT SIZES CUDA! THE TUNA OF PONTA IS...
more
Family day
- 2012-09-05
Ponta Do Ouro Tanje Camp is such a nise holiday destination and the beach is one of the reasons for this. On the 19 August the sea here at Ponta Do Ouro was so flat and calm that I decided to take the family out fishing. Lana my 3 year old girl and LP my 23 month old son along with mommy and grandpa had a splendid day at sea. Early we ...
more
First Marlin for 2012 season!
- 2012-09-05
On 30 August Greg Bouwer and his family joined me for a charter.   We met early that morning at Tanje in Ponta Do Ouro Mozambique main beach. We pulled Tropical dream Lures at a 200 meter mark. We hooked a Marlin and he quickly run out 700 meters of line. After he sounded we struggled for half an hour to get this 140kg Blue Marl...
more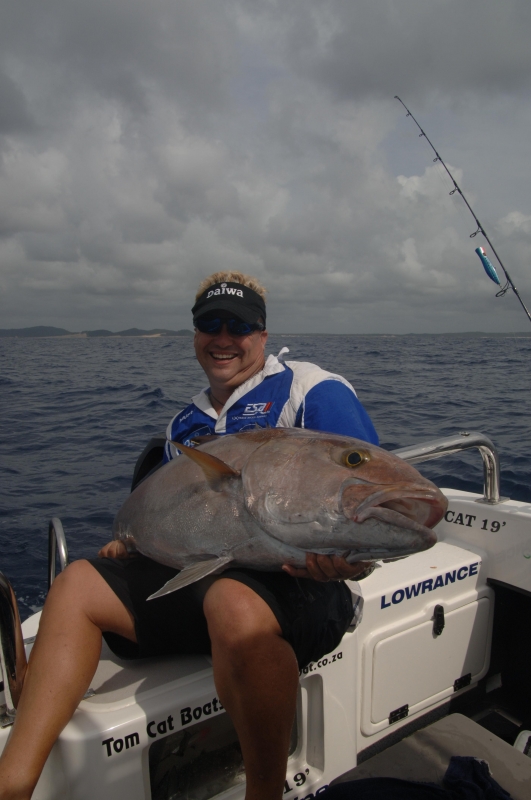 Huge Amberjack caught
- 2012-08-10
Dean Pretorius, well known presenter of ESA (Extreme Sports Angling) and now the editor of Rock Surf and Deep send us this picture of a monster Amberjack he landed whilst jigging of Ponta do Oura. The Amberjack was released and it's estimated weight was +-50 Kg ...
more
Bait used on our Charters
- 2012-08-10
From the end of February we mostly only fish with live bait which the Charther catches itself.  Fishing seems to be more exciting then. This continues till the end of October when the Baitfish start to spawn and go off the bite till the end of February. We then start using other technique than live bait to catch big game fish and specifically ...
more
Best fishing seasons for Ponta Do Oura
- 2012-08-10
Fishing is generally good all year round at Ponta do Oura. From January to December we get Barracuda (Natal Snoek) , Kaakaap, Prodical Son, Yellowfin Tuna, Queenfish, Garrick, Wahoo and Bonito species. These are the more common species of fish that you can expect to catch troughout the year. From the end of October till March you can expect good c...
more
Catching Sailfish off Ponta Do Oura
- 2012-03-28
Although we can not guarantee that you will catch a Sailfish every time we launch from Ponta do Oura it is very seldom that we return to Ponta without fish on board. Too date Nirvan Fishing Charters have assisted anglers landing more than 100 Sailfish. Most of the Sailfish caught are tagged and released.  The best times to catch Sailfish off...
more